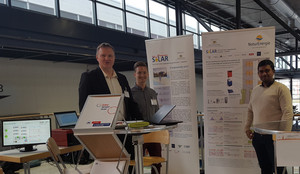 13.+14. February 2020 | Freiburg Fair
Local communities must play a key role in climate protection if we want to achieve the Paris climate targets in Germany. In the opinion of many scientists, the coming years will have a groundbreaking influence on further climate development. If we do not succeed in significantly accelerating transformation, all subsequent efforts will probably not be able to stop climate change.
In addition to the regulatory framework and incentive programmes at national level, implementation at local level is important for transformation success. For this reason, the Energy Autonomous Communities 2020 congress will focus on the practical implementation and acceleration of energy system transformation.
During this congress we will present our successful project: "SoLAR: Maximum self-consumption rate in quarters and distribution grids through decentralised energy management".
Soon we will also upload an online tutorial. Stay tuned for our news!
Details of the congress can be found here: https://www.energieautonome-kommunen.de/
Our Project Partners: Energiedienst AG, Kaufmann Bau, ISC Konstanz, EIFER, Weider, BSH, Miele, E3/DC, Gemeinde Allensbach, SW Haßfurt e.a.